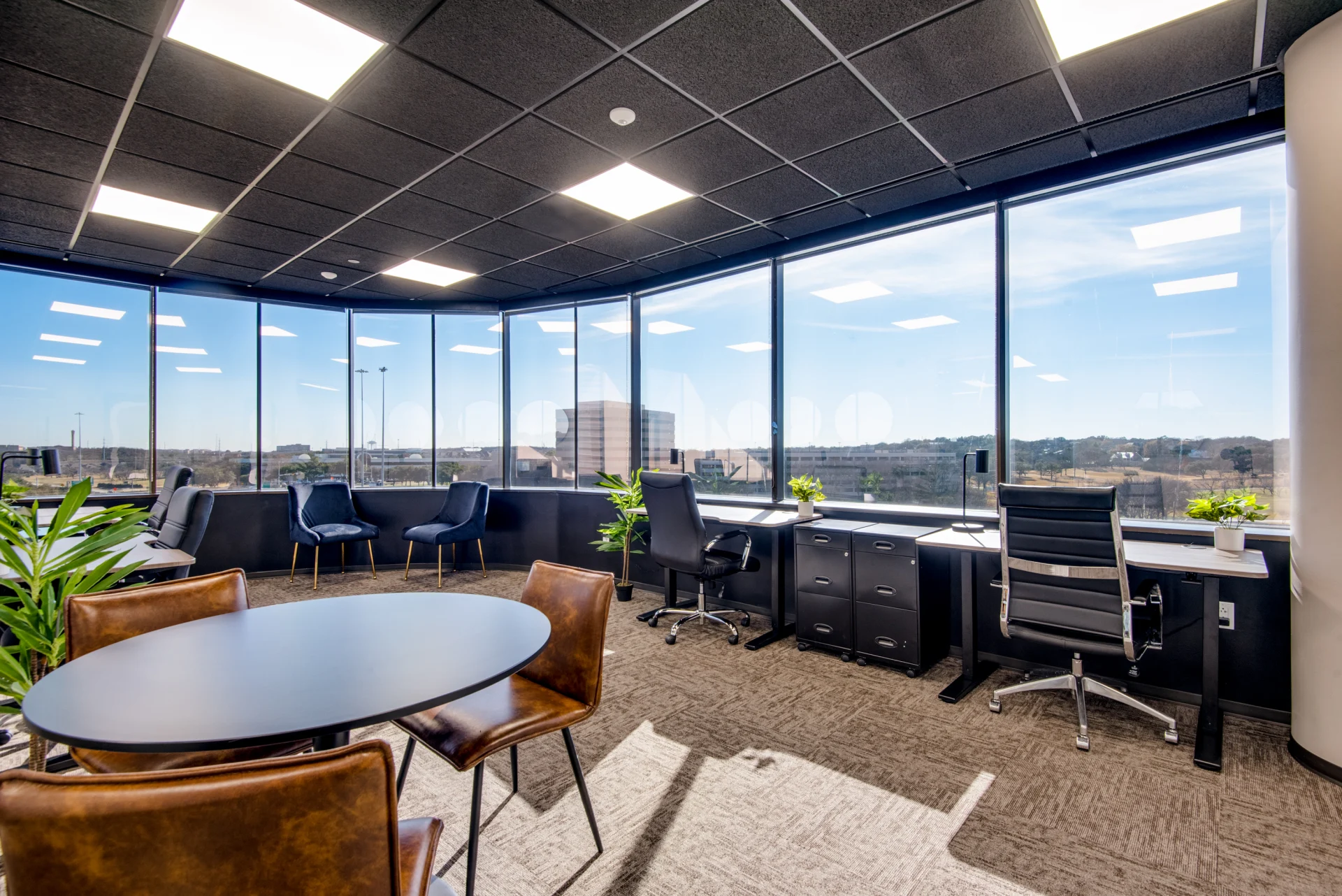 Office Space for Teams in Atlanta, Georgia
Plans for hybrid, remote, and permanent teams, all complete with meeting rooms and access to coworking amenities.
Schedule a call
Does your whole team need space that can be locked?
Dedicated Team Suite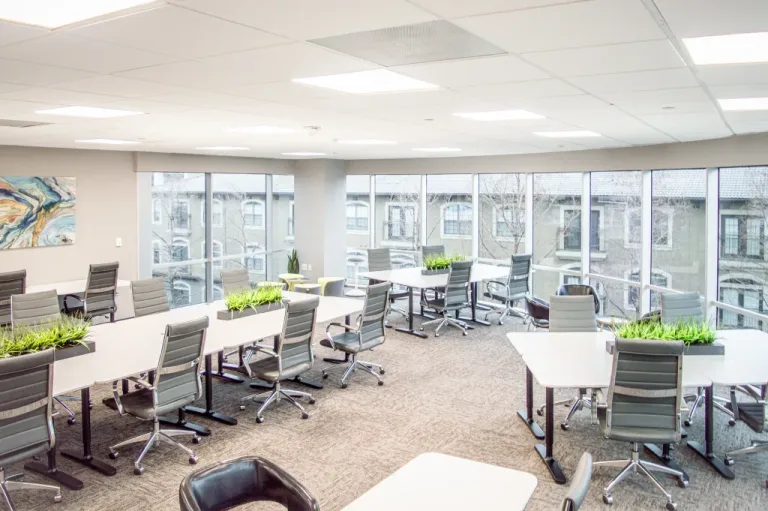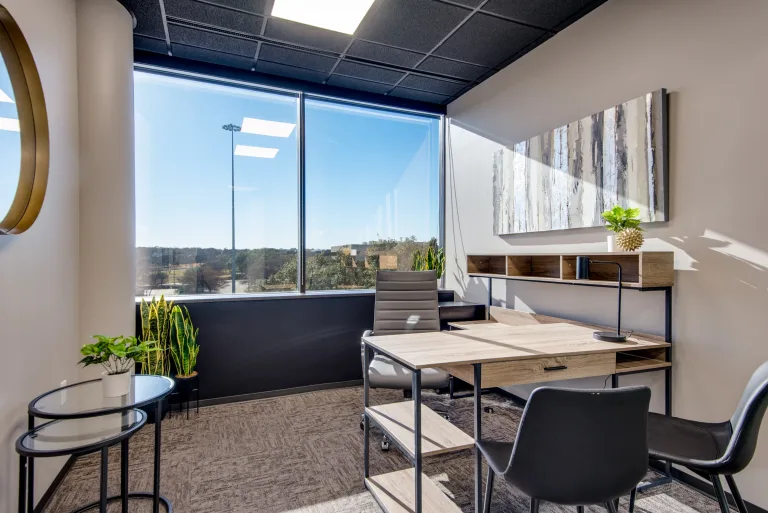 What's included:
Choose between one large room, multiple individual offices, or a combination of both.
All options are fully inclusive with furniture, phones, co-working area use, conference room use, and access to the coffee lounge.
Doors can lock, and keys will be given to you. Your belongings/equipment can stay in your office when you leave.
$400-$600/workstation/month
View locations
Call now
Do you have a remote team that needs occasional time in the office?
Offices on Demand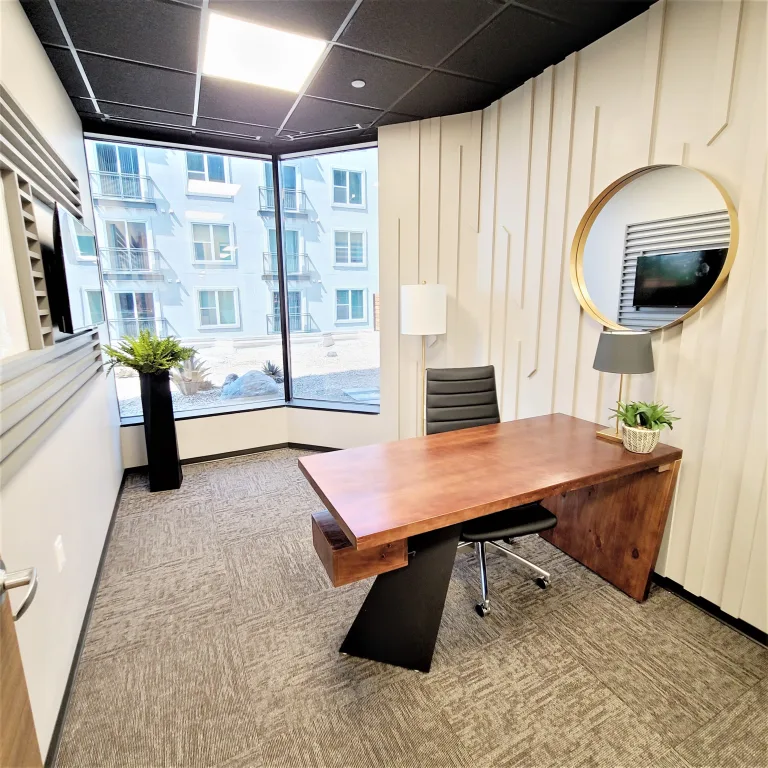 $150-300/employee/month
Enjoy access to any open private office at any Lucid Private Offices location for a low monthly rate.
Office days can be used by anyone on your team.
Conference room access included at a 25% discount.
Belongings/equipment cannot be left overnight, as an office you use may be utilized by another person the following day. Specific offices available may change from day to day.
Pricing Details
$600: 10 private office days per month
$1,000: 20 private office days per month
$1,200: 30 private office days per month
View locations
Call now
Do you have remote workers as well as a need for a permanent headquarters?
Dedicated + On Demand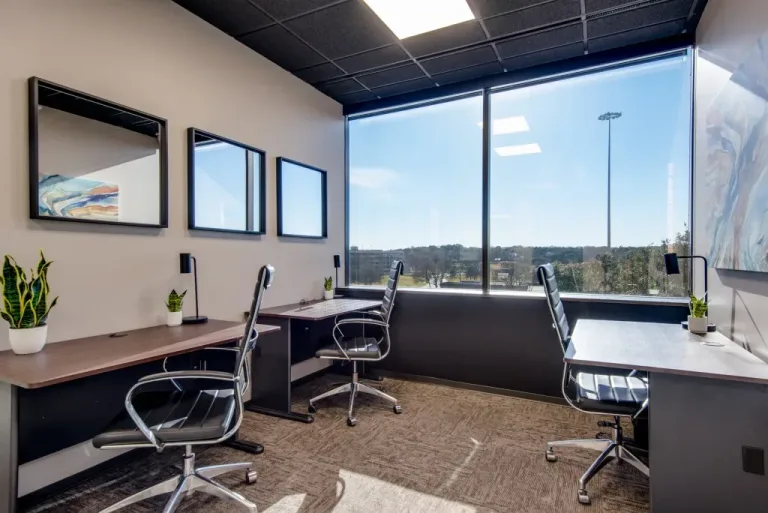 $250-400/employee/month
The best combination of a Dedicated Team Suite and Offices On Demand.
Headquarters for permanent staff (including flexible access to additional open private offices when more workstations are needed).
A solution custom-tailored to your company where you won't pay for space you aren't using, yet you'll never find yourself without space that you need on a given day.
Additional Benefits
Upsize/downsize on a monthly basis as your company grows or downsizes.
Work from any of our other locations other than your company's home location.
Access to meeting rooms and board rooms.
Fully inclusive.
24/7 access available.
View locations
Call now
Lucid Private Offices in Atlanta
3379 Peachtree Road NE, Suite 700 — Atlanta, Georgia 30326
Near this location:
Photos
Lobby

Church Restaurant

Patio

Team Suite

Reception

Common Area

Meeting Room #1

Professional Office
Amenities that delight
Business mailing address

Expecting a package that needs signed for? Your receptionist will let you know when it arrives. Ordering food delivery? Just pick it up at the front-desk.

Front-desk receptionist

Expecting clients or colleagues? Your receptionist will greet them and notify you when they arrive.

High-speed internet

Whether you are working in the cloud or spending your meeting online, you can work with confidence on our blazing fast internet with both wired and wireless connections.

Unlimited coffee

Need to refuel? Grab a fresh, complimentary cup of coffee from the coffee bar.

24/7 building access

Need to get in your office outside of normal business hours? Get full control with 24/7 building access.

On-site IT staff

Having trouble with hardware or services? Our team is ready to assist with any issues that may arise.
Looking for something else?
Office Memberships

Starting at $275/month

Our office memberships include meeting room and private office time along with a business mailing address and local telephone number. Get the benefits of a professional office suite with the flexibility and value of a coworking membership.

View plans

Virtual Offices

Plans as low as $59/month

When you choose a virtual office, you get the same prestigious address and phone number, without the added cost of a private office. You can use your virtual office mailing address and phone number on business cards, websites, flyers, ads, and other marketing materials.

Learn more
Uniquely Lucid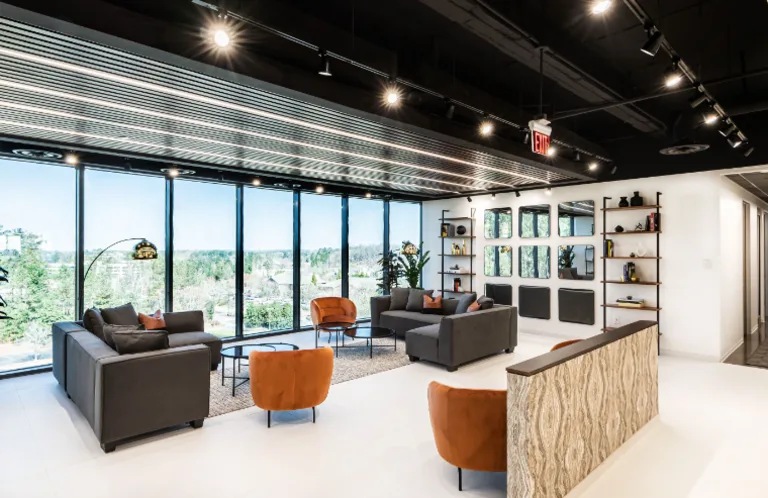 Your surroundings matter.
Whether you're a licensed professional, an entrepreneur, a team leader, a freelancer, or a remote worker, our offices will fit your needs. Ample natural light, outstanding design, comfortable furniture, and functional office solutions provide for a motivating and stimulating workspace where you will prefer to be during your workday. And our logo is absent from all of our interior spaces — this is your headquarters, not ours.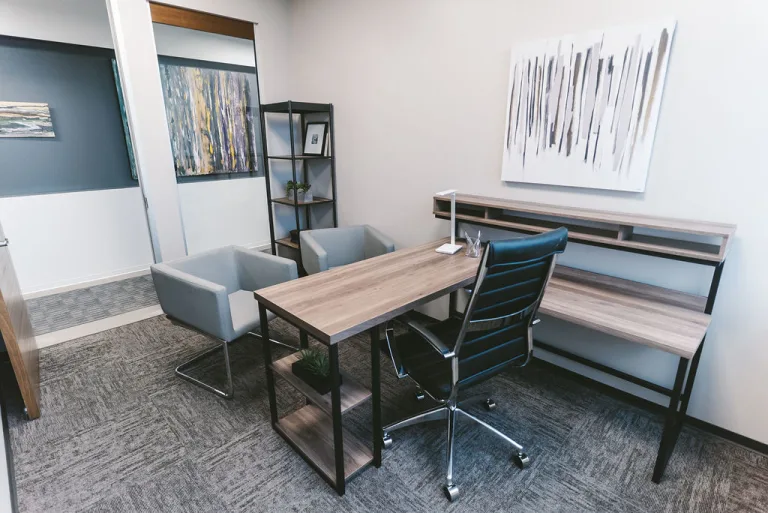 Furnished, move-in ready private offices.
Forget about the "new office" shopping list — we've got you covered. Our move-in ready, wired, and furnished private offices give you 24/7 building access and a full floor of infrastructure and amenities. Get the support of a large office without the restrictive long-term lease.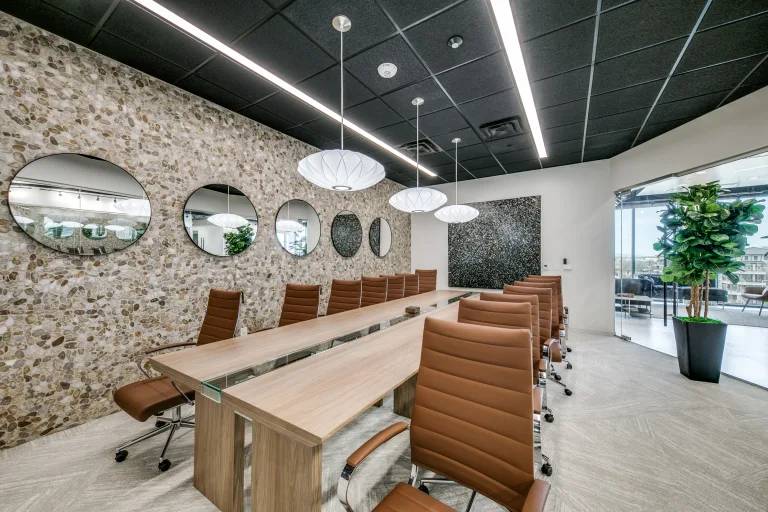 Meeting rooms included.
Meet clients in your own private office space or book a professional meeting room at any of our locations. These beautiful meeting rooms support video conferencing and screen sharing, and we also have a projector on-site.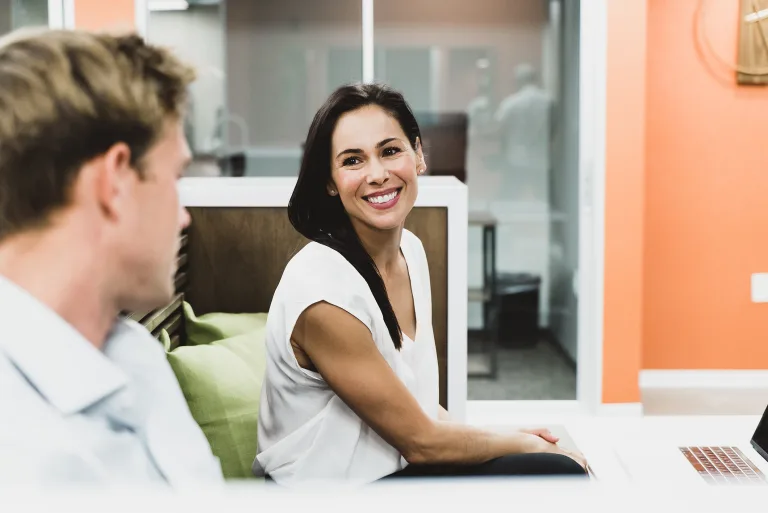 No long-term contracts required.
We pride ourselves on flexibility and ease. Pay month to month and upgrade your office whenever you're ready to scale. Planning to settle in? Lock in your rate for 6, 12, or even 18 months.
Frequently asked questions
How does Offices on Demand differ from an office membership?

Offices on Demand ties private office days to the company as opposed to an individual. This means that anyone from your company can be authorized to use a private office from your pool of remaining days.
For the Dedicated + On Demand option, do our hybrid workers need to work from the same location as the permanent office?

Nope! Workers that use a private office from your company's pool of remaining days can work at any Lucid Private Offices location.
For the Offices on Demand option, can unused days be carried over into the next month?

This membership does not allow for unused days cannot be carried over into the next month. However, any excess days can be utilized by anyone at your company, even if someone else is already using an office on the same day. For example, two employees using an office on the same day would count for two days on the membership. Many companies utilize this for team work days with a mix of brainstorming and focus work.
For Offices on Demand and Dedicate + On Demand, package, can two people use separate private offices on the same day?

Yes! This is a company membership as opposed to an individual office membership. This means that the pool of available days is up to the discretion of the company to dole out. If three people want to work in three separate offices, that will subtract three days from the company's remaining total. There is no need for an additional membership for additional employees.
Schedule a call now
On your free phone consultation, we'll discuss:
Your needs, wants, and workspace goals.
How flexible plans and simple pricing can save you money and time.
The questions and insights you need to choose the right workspace solution.
What makes Lucid Private Offices special (and why an in-person tour is the best way to experience the difference).
And answers to any other questions you might have!
Or call 1-888-445-9675 to get your free consultation.